THE REGION OF UNKEN
UNKEN IN SALZBURG'S SAALACH VALLEY HAS A WEALTH OF OPPORTUNITIES FOR YOUR FAMILY VACATION. IN THE SUMMER, THE UNSPOILED NATURAL WORLD BECKONS WITH HIKING TRAILS AND MOUNTAIN CLIMBING TRAILS OF EVERY LEVEL OF DIFFICULTY, MOUNTAIN BIKING TRAILS, AND RAFTING ROUTES, AND ALSO WITH CULINARY DELIGHTS AND THE BAROQUE-STYLE JAKOBSKIRCHE (ST. JAMES'S CHURCH), WHICH HAS ALWAYS BEEN AN ABODE FOR PILGRIMS. BUT THANKS TO THE NEARBY HEUTAL AND ALMENWELT LOFER SKI AREAS AND THE POST FAMILY RESORT'S OWN SPA FACILITIES, UNKEN ALSO HAS A LOT TO DISCOVER AND ENJOY IN THE WINTER.
WINTER EXCURSIONS
THE POST FAMILY RESORT IS SITUATED IN THE MIDDLE OF TWO FANTASTIC WINTERSPORTS AREAS IN SALZBURG PROVINCE. FAMILY-FRIENDLY PRICES AND PERFECTLY PREPARED SLOPES AWAIT YOU ON YOUR SKIING VACATION.
MORE INFO
SKI HOLIDAY AT
POST - FAMILY RESORT
THE POST FAMILY RESORT IN UNKEN OFFERS YOU MANY DIFFERENT WAYS TO SPEND AN INCOMPARABLE WINTER VACATION. FOR EXAMPLE, THERE ARE TWO SKI AREAS IN THE IMMEDIATE VICINITY WITH OVER 60 KM (37 MILES) OF SLOPES, WHICH GUARANTEE YOU AND YOUR WHOLE FAMILY SKIING PLEASURE, WHETHER YOU ARE NOVICES OR EXPERTS.
ALMENWELT LOFER
The Almenwelt Lofer [Lofer Alpine World] family ski area is only a 10 minute car trip away from the hotel and is easy to reach by car as well as by the free shuttlebus. The shuttlebus stop is directly in front of the hotel entrance. Children in skiing courses will be looked after by the care givers.
ALMWELT LOFER OVERVIEW:
Only 8 km (5 miles) away from the hotel
Free ski bus 3x daily, station in front of the hotel
Extra shuttle for children taking skiing courses
VIP vouchers for a mid-day snack right on the slope
10 cableways and lift systems
46 km (28 miles) of well-maintained, perfectly prepared ski slopes, 35 km (22 miles) of which have snow making systems
9 km (5.6 miles) downhill slope (1000 m (3,280 ft) altitude difference)
Snow park with18 rails and jumps
Funcross for freeskiers
Children's area with 3 practice lifts and roofed conveyor
Almenwelt circular hiking trail with high altitude cross-country skiing trail
Children 4 to 12 years - Whole-day skiing courses € 274.00
Sunday to Friday 10:00 am to 12:00 and 1:00 pm to 3:00 pm
Family ski pass (6 days) for 2 adults and up to 2 children (up to 14 years old) starting at € 436.00
LUNCH SNACK
With the VIP-vouchers you will receive your lunch in the Almenwelt Lofer directly on the slopes - of course included in the POST gourmet full board.
HEUTAL HIGH PLATEAU OF UNKEN
With the car you only need 15 minutes to the high plateau Heutal. With its three tow lifts, the ski area is rather small, but that is exactly what many of our regular guests like about it. No commotion, easily navigable descents, well-maintained and in part challenging slopes. The Heutal is especially popular among cross country skiers, snowshoe hikers, and tour hikers. You will also find fantastic luge runs and cozy ski lodges for pit stops.
OVERVIEW OF THE HEUTAL FAMILY SKI AREA:
Only 7 km (4.3 miles) away from the hotel
3 tow lifts between 1000 and 1500 m (3,300 and 4,900 ft)
14 km (8.6 miles) of slopes
50 kilometers (31 miles) of cross-country skiing trails
Eldorado ski tours
LUNCH SNACK
With the VIP-vouchers you will receive your lunch in the Almenwelt Lofer as well as in the Heutal directly on the slopes - of course included in the Post - inclusive services package.
FAMILIEN SKIGEBIET STEINPLATTE
Das perfekte Skigebiet für die ganze Familie verspricht mit der sonnigen Hochplateau-Lage einen Winterzauber, den Mama, Papa, Oma, Opa und die Kids gemeinsam erleben können. 42 erstklassige Pistenkilometer, gemütliche Hütten und ein atemberaubender Panoramablick warten auf Sie. Für alle die mehr Action suchen ist der täglich geshapte Snowpark Steinplatte ein Muss, während unsere jüngsten Gäste von der Triassic Funline mit ihren dinostarken Elementen sowie abwechslungsreicher Kinderbetreuung in unserem Triassic Park begeistert werden. Winterwanderer genießen auf dem Rundwanderweg zur Aussichtsplattform die unschlagbare Fernsicht und Langläufer kommen auf den weitläufigen Loipen der Winklmoosalm auf ihre Kosten.
DIE STEINPLATTE IM ÜBERBLICK:
nur 19 Kilometer vom Hotel entfernt
17 moderne und sichere Sesselbahnen, Lifte, Förderbänder und Gondeln
42 bestens präparierte und technisch beschneite Pisten ideal für Familien
Triassic Funline (Wellenbahn, Steilkurven, Riesenschnee-Schnecke mit Tunnel, Kinderslalom)
Triassic Kinderland am Hausberg mit Skischulunterricht
Kinderbetreuung (Halb- und Ganztagesbetreuung) und Mama-Lounge
1km langer Panorama-Winterwanderweg mit Aussichtsplattform, Tropfsteinhöhle, Kinderspielplatz und Sonnenterrasse
Snowpark Steinplatte mit 1,5km Länge
preiswerte Familienermäßigungen und Verbundtickets
Anfängerpisten am Waidringer Hausberg und im angrenzenden Skigebiet Winklmoosalm (DE)
CITY OF SALZBURG
SALZBURG IS MOZART, SOUND OF MUSIC, AND A WORLD HERITAGE SITE. BUT SALZBURG CAN ALSO BE A LOT MORE. COME AND DISCOVER IT FOR YOURSELF.
MORE INFO
EXCURSIONS
AFTER A 30 MINUTE CAR TRIP OR A ONE HOUR BUS TRIP, YOU WILL BE IN THE CITY OF MANY POSSIBILITIES - SALZBURG. SHOPPING, MUSEUMS, PALACES, NATURAL WONDERS, PUPPET AND MARIONETTE THEATERS AND OF COURSE THE FESTIVAL. YOU AND YOUR ENTIRE CAN SEE ALL OF THIS, OR JUST THE TWO OF YOU CAN GO WHILE WE TAKE THE BEST POSSIBLE CARE OF YOUR CHILDREN.
SALZBURG ZOO
The unique Hellbrunn Mountain landscape is home to ca. 1200 wild animals in the Salzburg Zoo. Native and exotic animals - from ibexes to banded mongooses - live here on the 14 hectare (35 acre) premises in natural and spacious facilities.  
The Salzburg Zoo is open year round daily, starting at 9:00 am.
WASSERSPIELE HELLBRUNN
The Hellbrunn Trick Fountains (Wasserspiele Hellbrunn) present a spectacle that has hardly changed and has been thrilling people for 400 years: strange and mysterious grottos, water-driven moving figures, and mischievous water jets in every nook and cranny.
The Hellbrunn Trick Fountains are open from mid-March to September, starting at 9:00 am.
HAUS DER NATUR
You can discover the most exciting aspects of nature in the Haus der Natur museum. From giant dinosaurs and exotic reptiles from around the world to milestones in space travel and interactive experiments in the Science Center... everything amazing is combined here.
The Haus der Natur museum is open daily from 9:00 to 17:00 (5:00 pm). (Closed on Christmas Day)
HANGAR - 7
Originally designed to house the steadily growing airplane collection of the Flying Bulls, Hangar - 7 is now a synonym for avant-garde architecture, modern art, and gourmet dining. Come and prepare to be amazed.
Open daily from 9:00 until 22:00 (10:00 pm), admission is free (closed from Christmas to early January)
HIKING VACATION WITH CHILDREN
HIKING IN THE ENCHANTING SAALACH VALLEY AND BERCHTESGADNER LAND REGIONS IS A PLEASURE FOR YOUNG AND OLD ALIKE.
HIKING
SHORT 40 MINUTE HIKES WITH AN ALTITUDE DIFFERENCE OF 240 METERS (787 FEET) AS WELL AS THREE HOUR TOURS WITH A CUMULATIVE ELEVATION GAIN OF NEARLY 1000 METERS (3,300 FEET) ARE POSSIBLE. BACKPACKS, BACK CARRIERS, AND PROVISIONS ARE AVAILABLE IN THE POST FAMILY RESORT. FIND YOUR FAVORITE ROUTE.
HIKING TRAILS
Dickkopf / 240m altitude / ca. 1 hour walking
Moarlack / 300m altitude / ca. 40 min. walking
Dietrichshornrunde / 450 altitude / ca. 3 hours walking
Hochalm / 500m altitude / ca. 1 hour walking
Peitingköpfl / 760m altitude / ca. 2 hours walking
Wetterkreuz / 977m altitude / ca. 3 hours walking
Rundweg : Achberg / ca. 3 hours walking
Rundweg : Josfsalle – Gsensteig / ca. 1 hour walking
and, and, and...
SUMMER EXCURSIONS
SALZBURG PROVINCE HAS A LOT TO OFFER IN THE SUMMER AND IS JUST WAITING TO BE EXPLORED BY YOU.
MORE INFO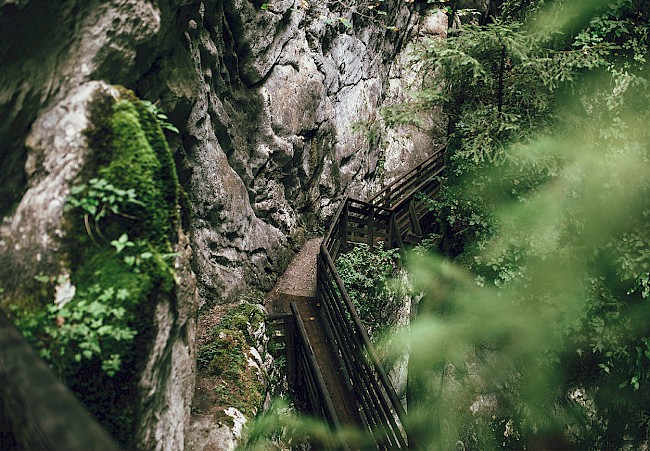 EXCURSIONS
FROM THE SAALACH VALLEY NATURAL MONUMENTS AND THE TRIASSIC PARK TO THE SUMMER TOBOGGAN RUNS, UNKEN AND THE SURROUNDING AREA HAVE SOMETHING EXCITING IN STORE FOR YOU EVERY DAY.
SAALACH NATURAL MONUMENTS
Bizarre rock formations, roaring cataracts, and one of Europe's largest cave systems, the Saalach Natural Monuments are a unique natural wonder that you definitely ought not to miss.  
The Natural Monuments are open daily from May to October.
SALZBURG OPEN-AIR MUSEUM
In the Salzburg Open-Air Museum, travel back in time to Salzburg's rural past and marvel at the 100 rebuilt authentic and original buildings telling tales of historic farming, rural crafts and manufacturing. A visit to the hospitable Museumswirt tavern is always worthwhile.  
The Salzburg Open-Air Museum is open from April to October.
RUHPOLDING LEISURE PARK
With many attractions for young and old alike on 50,000 m2 (12 acres), the Ruhpolding Leisure Park is guaranteed to thrill. Many game stations are roof-covered and can be enjoyed even in bad weather. And the "Gipfelstürmer" mountain roller coaster runs in all weather, except during storms.
The Leisure Park is open daily from 9:00 to 18:00 (6:00 pm), from March until early November.
DÜRRNBACHHORN NOSTALGIA - CHAIR LIFT
On one of its total of 140 one-seaters, the Nostalgia - Chair Lift carries you in 20 minutes from the valley station at 1,195 m (3,920 ft) up to the 1,610 m (1 mile) high Dürrnbacheck, where you can enjoy the phenomenal panoramic view along with cool refreshments and regional delicacies in the Dürrnbachhorn inn. Tip: Post – Family Resort guests ride for free.
The Dürrnbachhorn Chair Lift is open from mid-May through October, weather permitting.
SALT MINE BERCHTESGADEN
For many years only the Berchtesgaden miners were allowed in the extensive tunnels of the Salt Mine Berchtesgaden. Nowadays a portion of the mine, which has been in operation for 500 years, is open to all adventure seekers. Tour time: ca. 45 minutes
The mine is open year round from 9:00 to 17:00 (5:00 pm) (final admission). Suggestion: Buy tickets in advance at the hotel reception.  
SUMMER TOBOGGAN RUNS
Those who don't get enough tobogganing in winter can make up for it in the summer on the nearby summer toboggan runs on the Biber and on the Asitz. Both are guaranteed fun for the whole family and are situated in the idyllic Salzburg mountain region.
The summer toboggan run on the Biber is open daily from 9:00 to 16:30 (4:30 pm) from May to October, and the one on the Asitz is open daily from 9:00 to 16:30 (4:30 pm) from mid-May to October.
TRIASSIC PARK
In the Tyrolean Pillersee Valley, just 20 minutes away by car, an excursion into a long-forgotten era when giant dinosaurs ruled awaits you on the Steinplatte Waidring, where Alpine cows graze today. Be sure not to miss out on the Triassic Park adventure and allow yourself to be transported into a far distant past!
The Triassic Park is open daily from 9:00 to 16:45 (4:45 pm), from June until early October.
FAMILIENLAND PILLERSEETAL
With its extensive and creative program, the Familienland Pillerseetal [Pillersee Valley Family Park] is the ideal destination for an excursion with the whole family. Along with fun and games, there is the "Totes-Meer-Salzgrotte" (Dead Sea Salt Cave), which is reputed to be therapeutic for allergies as well as skin and respiratory diseases through the natural healing power of the salt.
The Familienland is open daily from 10:00 to 18:00 (6:00 pm) from May through October.
HANS-PETER PORSCHE TRAUMWERK
The Hans-Peter Porsche Traumwerk ("Dream Factory") houses a nostalgic collection of tin toys and a wonderful model railroad, a dream-like blend of romanticism and high tech. The Traumwerk-Express train invites you to take a relaxing ride through the adjacent park and enjoy the sun.
The Traumwerk is open Tuesday to Sunday from 9:00 to 17:30 (5:30 pm).